---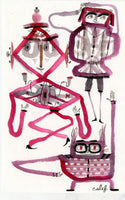 Ink on paper
7" x 11"

Calef Brown is the author and illustrator of thirteen books for children
including Polkabats and Octopus Slacks, Flamingos on the Roof: Poems and
Paintings – a New York Times bestseller, The Ghostly Carousel and most
recently, Up Verses Down. Brown's illustrations have appeared in
Newsweek, The New Yorker, Rolling Stone, Time, and many other
publications. His work has been shown in numerous galleries in the US
and internationally, most recently at The Museum of Creative Minds in
Shanghai during the Spring of 2021.